Described below are our penguin facts. There are a variety of penguin species in the world, but 7 species are known to live in the Antarctica, namely; King Penguin, Adelie Penguin, Emperor Penguin, Gentoo Penguin, Chinstrap Penguin, Macaroni Penguin and Rock Hopper Penguin.
---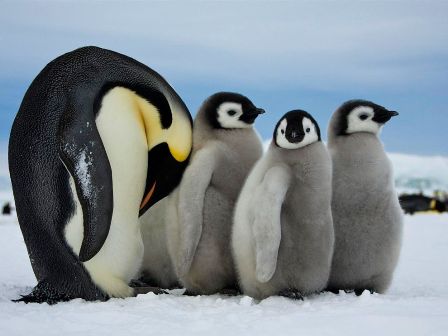 Emperor Penguin
General
• Emperor Penguins are the largest of all penguin species, measuring up to an estimation of 115cm.
• They make use of strategies such as huddling that helps them survive the coldest climate on earth.
• On average they weigh as much as 38kg.
• Emperor penguins breed the furthest south of all penguin species.
• Due to their breeding locations they are challenged with one of the toughest and coldest weather conditions. Winds can reach up and over a staggering 100mph and they tackle temperatures as low as -50 degrees Celsius! All this effort is to produce new offspring.
• They are commonly mistaken for a king penguin.
• Their predators are seals and orca whales.
Habitat
• The natural emperor penguin habitat is the Antarctic land and its waters and in fact it is rare to see an emperor penguin anywhere else in the world!
Food
• The main food source of the Emperor Penguin is small fish, squid and krill.
Baby Penguins
• The female will only lay one as the climate and breeding location restricts more eggs.
• Eggs that are left on the ice will actually freeze over…so the penguins must balance the eggs on their feet!
---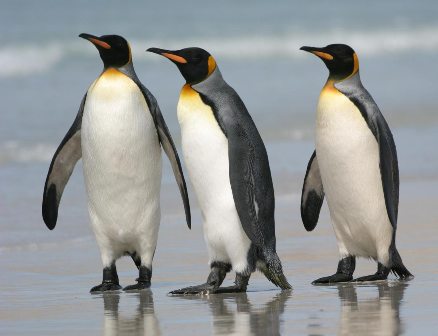 King Penguin
General
• Commonly mistaken for an Emperor Penguin
• They are the second largest of the penguin species.
• Seals like the leopard Seal and Orca whales are predators of the king penguin.
• They are an estimated 94cm tall and weigh an estimated 16kg (Adult estimations).
• They are part of the bird species but cannot fly.
Habitat
• In the Antarctic they can be found in the sub-Antarctic islands as they prefer the warmer climate.
Food
• They feed on small fish (mainly lantern fish), krill and squid.
Baby Penguins
• The baby penguins develop a fuzzy brown coat of fur.